Medjet Assist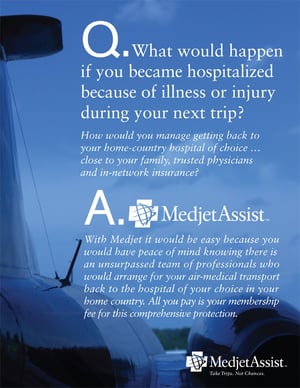 MedjetAssist through Buckeye Wealth Management
Are you planning on traveling soon? In case of an unexpected medical emergency, MedjetAssist can help you get back to your home country hospital of choice. Our financial experts can help you purchase a Medjet membership to receive premier global air-medical transport services through MedjetAssist.
MedjetAssist is the premier global air-medical transport membership program for travelers. If a member is hospitalized more than 150 miles from home – virtually anywhere in the world – MedjetAssist reviews his or her condition with the attending medical staff and a Medjet physician and arranges medical transfer to the member's home country hospital of their choice at no additional cost. MedjetAssist has its corporate headquarters in Birmingham, Ala., and is the exclusive provider of medical transport and repatriation services for AARP.
Medjet Membership Benefits & Services
Do you need more information about how you can become a member of Medjet? Click this link www.medjet.com/buckeye which will take you to the Medjet webpage, or fill out our simple contact form!
Click the image above to download a PDF of membership benefits and services.
Buckeye Wealth Management partners with Medjet, and is paid a fee for member enrollments.